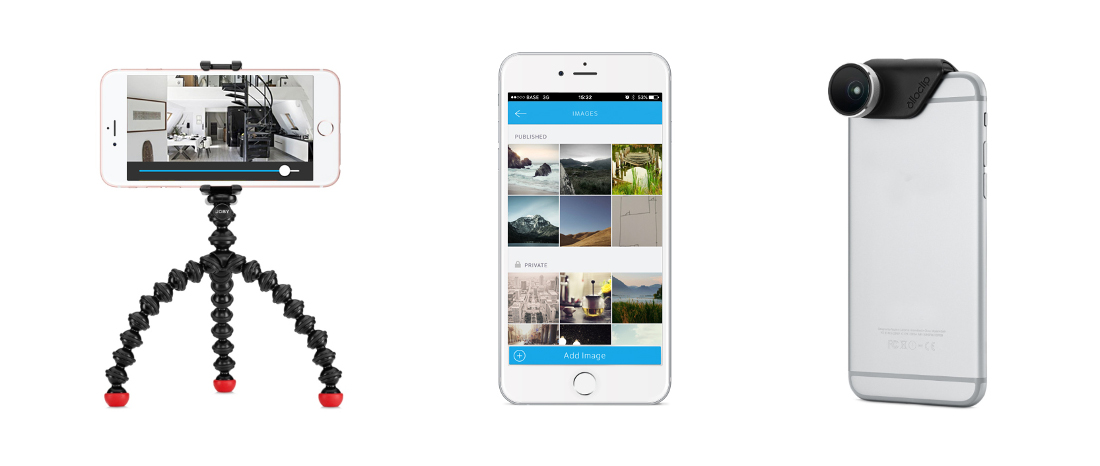 1. Tripod
A phone tripod is a great accessory for your mobile photography, especially when shooting in low light.
Of course, you're unlikely to need a tripod in every shooting situation. The main reason for a tripod is to steady your phone to avoid blurry photos caused by camera shake. Camera shake can occur when the phone is using a slow shutter speed and the camera is moved during the exposure.
The camera of your phone will use a slower shutter speed in low light situations where there's no strong light source (such as indoors).
In these circumstances the shutter needs to stay open for longer to allow enough light in to correctly expose the image.
Using a tripod when shooting in low light will eliminate any camera shake, resulting in a crisp, sharp shot.
When using a tripod, you may find it helpful to use some form of remote shutter release (see below). This helps to avoid any additional camera shake that may be caused by tapping on the phone's screen to take a photo.
There are various types of tripods you can use.
Small and flexible
If you want to stay true to the "mobile" aspect of your phone, you may want to consider small and lightweight tripods that you can easily carry in your bag or pocket.
The Joby GripTight Gorillapod is one of the most popular phone tripods as it offers a lot of flexibility. Its bendable legs can be shaped to stand firmly on any flat or uneven surface. And you can even wrap them around objects to brace your phone for taking photos.
The adjustable GripTight mount allows you to easily clip any model of phone (with or without a case) onto the tripod.
Sturdy and high quality
Manfrotto has an excellent reputation for producing quality products for professional photographers.
The Manfrotto Mini Tripod has the professional quality you'd expect and its compact size makes it perfect for mobile photography.
Unlike the Joby tripods, this one doesn't have an adjustable grip mount to hold the phone in place so you will need some kind of tripod mount that will attach to the tripod's screw thread.
For example, this Glif Adjustable Tripod Mount allows you to securely attach your phone to the Manfrotto tripod.
Tall and lightweight
If you're looking for a taller tripod for your phone, the Lollipod is a great lightweight option. In some ways, the Lollipod is a bit of a crossover between a monopod and a tripod. It consists of one multi-section telescoping pole that stands on a small tripod at its base.
The biggest advantage of the Lollipod is that it's exceptionally lightweight and easy to carry.
At the bottom of the legs there's an attachable "hammock" that allows you to place any sort of heavy object on it to hold the tripod firmly in place should this be needed.
The Lollipod has a standard tripod mounting screw that will accept many types of tripod mounts. Here's the Joby GripTight Mount as an example.
Full-size camera tripods
Finally, if you already have a full-size camera tripod you can simply use that with your phone.
These tripods are designed for supporting large cameras so they'll keep your phone super-steady.
The only adjustment you need to make to a full-size camera tripod is to purchase a phone tripod mount so that you can attach the phone to the screw thread on the tripod.
2. Remote
If you're using a tripod for your phone photography, you'll likely need a means of triggering the shutter release remotely (without touching your phone).
This ensures that you don't have to touch the phone which can cause camera shake in low light conditions.
The simplest option is to use the earbuds that came with your phone. The volume buttons on the iPhone will function as a shutter release for instance.
One of the best options for a wireless remote is the Muku Shuttr. This is a great accessory that connects to your phone via Bluetooth.
3. Extra Power
Although the various iPhone 6 models have the largest batteries in Apple handsets to date, they can still run dry during days of heavy use.
Protection and power
For the iPhone 6 and 6s, check out Anker's Ultra Slim Extended Battery Case. For the iPhone 6 Plus and 6s Plus, we like Tylt's Energi Sliding Power Case.
The Ultra Slim Extended Battery Case is our pick for the iPhone 6 and 6s because it provides the greatest charge percent per dollar which equates to the lowest price per full iPhone charge and it provides a full iPhone charge, more than doubling the phone's battery life. We also appreciate its slim design and lightweight body.
The Energy Sliding Power Case is capable of delivering an 83 percent charge to the gigantic iPhone 6 Plus battery. This model is notable because it has an inner case that you can separate from the charger. This means that if you don't need the battery pack, you can remove it without leaving the phone unprotected.
Battery packs
If you don't want a bulky case, or if you want the flexibility to charge multiple devices, a USB battery pack is a better option. These packs come in many different sizes. The TravelCard is almost thin enough to fit in a wallet—with a built-in USB cable to charge the TravelCard and a built-in Lightning-connector cable to charge your phone.
If you need more power, EasyAcc's 6000mAh Ultra Slim Power Bank offers more power in a larger, but still relatively small, package. It can charge any device with a Micro-USB input, including Android phones, Kindles, and Bluetooth headsets, using a built-in cable; it also has a standard USB port, so you can charge your iPhone using a USB-to-Lightning cable.
4. Lenses
There are quite a few smartphone camera lenses out there, but Olloclip's are among the best. The company's newest lenses allow you to take macro, wide-angle, and fisheye shots. The pack comes with three colored plastic clips and a lanyard so that you don't lose the tiny lens attachments. The lenses work with both the front and rear cameras on your iPhone.
For avid shooters who want to enhance their mobile photography, the simple and effective Moment Tele Lens and Moment Wide Lens are great choices. The Moment lenses stand out from the competition by offering excellent image quality, a simple attachment mechanism that accommodates most slim cases, portability, and a reasonable price tag for good glass. The Moment lenses are also compatible with older-generation iPhones, the iPad Air, several Samsung Galaxy models, and the Nexus 5.
Moment lenses attach to your phone via a metal mounting plate that you permanently adhere to your iPhone—you twist the lens on and off much as you would a DSLR lens. The slim mounting plate blends into the body of the phone well, letting you use many slim cases over it. The glass lenses feel weighty and solid in your hand, like "real" lenses, and the images they produce are crisp and clear, with very little distortion and no vignetting.
If you're willing to spend more and you aren't married to your favorite smartphone case, the iPro Lens System from Schneider Optics is worth a look, as it lets you stash the lenses, when you aren't using them, into a handle for holding Schneider's own phone case while you're shooting, combining storage and stabilization in one package. Schneider's lens quality is excellent, too: as with the Moment lenses, there is very little distortion and no vignetting, and wide-angle shots appear sharp even at the edges.
The Schneider bayonet mount is built into the company's case, which you must use in order to attach these lenses. The case is slim and offers enough texture to feel secure in the hand and features threaded tripod mounts on each long side. It's also easy to put on and take off. The two lenses that are equivalent to our Moment picks—a .65X wide angle and a 2X tele.
5. Laser Tool
Laser Distance Measuring Tools, also known as "Electronic Tape Measures" offer true laser light for the most accurate measuring. These measuring devices are true time savers and are very accurate. You simply put the device up against a wall and point the laser towards the opposite wall and the device displays true wall-to-wall distance. Same goes with ceiling measurements. Lay the device on the backside, point it up and it will measure from the floor to the ceiling.
Of course these are not directly integrated to your phone but check out the iPin Spatial Ruler. It's a laser measuring device that pops into your phone's earphone plug. We haven't been able to test it yet, but it sure seems like a cool accessory.