Disruptive, next-generation real estate agencies are transforming the process of buying and selling a home by substantially lowering costs or by offering customers a far better experience.
The people that are winning are lethal on their follow-up," says Matt Lahood from The Agency - "if somenone asks for something, they've got it within the hour. Speed is the new currency.
---
Table of contents:
Commissions under threat
The transformation imperative
Winning characteristics?
The mobile Millennial home buyer
What's next?
9 Ways to future-proof your business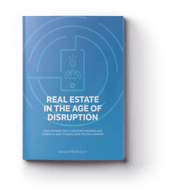 ---
Key industry players share their insights on what key characteristics winners have in common in this in depth research paper.
Benjamin Teper,
Global Real Estate Advisor,
United States
Christopher Stjernholm ,
Trelora Director of People,
United States
Mark McLeod,
CEO Growth Ray White Real Estate,
Australia
Newsletter
Get notified when we publish new insight, articles and more.
We're committed to your privacy. SweepBright uses the information you provide to us to contact you about our relevant content, products, and services. You may unsubscribe from these communications at any time. For more information, check out our Privacy policy.