Walk before you run
Our professional services experts have developed 3 tracks to set your agency up for high performance.
The onboarding track
Our experts assist your agency with the set-up of your account and the training of your team. We unlock value by helping you adopt the features that provide the most significant short-term opportunities for your business. This track includes the following steps.
Kick-off
Data migration
Set-up
Unlocking value
Training
Go Live
Basic automations
Health check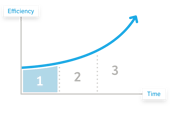 The engagement track
Our experts track the first weeks of adoption and progress throughout your agency and sets you up for further growth. We continue building up your productivity with some more advanced automations. This track includes the following steps.
Insights
Advanced automations
Unlocking value
Additional training

The growth track
During the growth track, we assist your agency with implementing expert recommendations and automations to make sure your business is on the path to high efficiency. Together we focus on sustainable growth and continuous improvement with the following steps.
Insights
Expert automations
Unlocking value
Additional training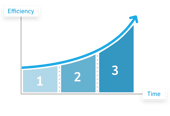 Bright sparks who made the switch
"Thanks in no small part to the mobile aspect of SweepBright's platform I can make 2 to 3 times more visits per week than before, and therefore close more deals."
"We've been working with SweepBright for over 2 years and the biggest feature is our agents becoming truly mobile so they can free up time to better serve their clients & leads. Their team is very responsive for market feedback and provides an open & personal communication."
"Since our agents spend most of their time on the road, we needed a modern, mobile-driven technology that we could combine with other tools and apps in our stack. It is this vision that led us to choose SweepBright and with it, take a massive step forward for Century 21 Benelux."
Discover SweepBright
A full stack of features transforming your sales flow into a fully digital journey.