Create listings on location in minutes instead of hours, so you can focus on what really matters.
Images & Video, Documents, Plans
Images & video
Your phone is equipped with an extremely capable camera. Use it to snap some images, enrich and publish your listing without delay. You can even add 360° images and videos.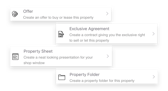 Documents
SweepBright lets you add, create and store all your documents along with your listing. Generate your own documents and have them signed on your phone.

Plans
Just as with images and documents, you can add plans to your listing or have a professional come by and upload the plans to your listing directly.
All your content
Unlimited cloud-based storage for your listings
SweepBright lets you store all your content such as documents, plans and high-resolution images, in one place. SweepBright offers you unlimited and secured storage.
Invite your photographer and be notified when his images are uploaded to your listing.
Do you need to obtain documents from the vendor, lawyer or a notary? Send them a request and get notified when the documents are uploaded.
By gone are the days where you needed to sift trough your clogged mailbox.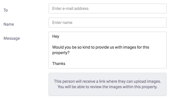 Scheduling visits & open homes
SweepBright lets you schedule and register visits with your vendors and leads.
Scheduled visits appear in your negotiators' calendar as well as the vendors' or leads' calendar automatically with all the useful details.
Open homes or auction dates can be planned and displayed on your website.
---
Extend the power of SweepBright's listing management:






Discover SweepBright
A full suite of feature that transforms your agency journey in a full digital experience
Website

SweepBright comes with your own agency website which is live as you publish your first listing! Alternatively, you can build your own using our API.

Data & analytics

Monitor your marketing and sales performance, and get visual insights on every aspect of your agency's business performance.

Automation & integrations

SweepBright works great with third-party apps to make your work even easier. This way you can create and automate your perfect digital work space!
Discover how much time you can save on each new listing
SweepBright lets you reduce the amount of time you spend on creating new listings so you can focus on what you do best. Closing deals.
How many new properties do you have per month?

How long does it take you to gather and process all the information for 1 single listing?
Savings with SweepBright
*Estimated cost = €35/ hour
Get started today
Plans for teams and agencies of every stage, shape and size. Not sure which one is right for you? We'll help you choose the perfect plan to suit your needs.
Agency

Starting at 68/month
(billed annually)